Oaks Supports Australian Arts Industry Through Gold Partnership with Opera Australia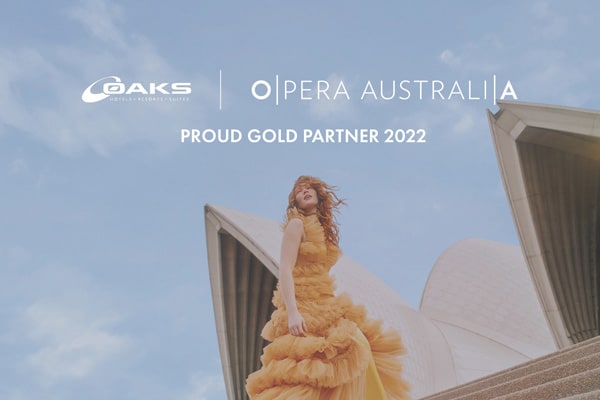 April 12, 2022: Oaks Hotels, Resorts & Suites is pleased to announce their Gold Partnership with Australia's pre-eminent performing arts company, Opera Australia for their 2022 Season.

The partnership will see Oaks Hotels, Resorts & Suites become the preferred apartment accommodation partner for Opera Australia throughout the 2022 Season.
As one of the world's busiest opera companies, Opera Australia presents more than 600 performances every year to a combined audience of over half a million people. Some of the highlights of this season include Handa Opera on Sydney Harbour — The Phantom of the Opera, Madama Butterfly, Cinderella and La Traviata.
'As we emerge from the pandemic, it is very important to us to support the arts as the industry flourishes once again. The importance of the arts on society cannot be understated and with the 2022 Season including some of the world's most loved shows, we are thrilled to support Opera Australia in what is set to be a very successful season.' John Thompson, Head of Commercial for Minor Hotels Australia and New Zealand.
Opera Australia's CEO, Fiona Allan is thrilled to announce the partnership and is looking forward to working with Oaks Hotels, Resorts & Suites.
"We're so excited to finally be returning to performing on a national scale, with shows scheduled in nearly all Australian states and territories in 2022. And as we recover from the devastation the pandemic has inflicted on both the arts and travel industries, this partnership between Opera Australia and Minor Hotels Australia and New Zealand Oaks is particularly invaluable," said Ms Allan.
To celebrate the partnership, Oaks is offering guests a 15% discount on selected Sydney and Melbourne properties, with promo code OPERAAU22. Participating properties include Oaks Melbourne Southbank Suites, Oaks Melbourne on William Suites, Oaks Sydney Goldsbrough Suites and Oaks Sydney Castlereagh Suites (blackout dates apply).
For more information, visit: https://www.oakshotels.com/en/opera-australia

-Ends-
About Oaks Hotels, Resorts & Suites
An industry leader in, Oaks Hotels, Resorts & Suites provide a home away from home for both savvy corporate travellers and leisure tourists alike. Maintaining consistently high standards of amenities and services across the board, each Oaks property prides itself on connecting the visitor to the spirit of its locale. Exemplified by quality and affordability, Oaks welcomes guests to an ever-expanding group of more than 60 properties in Australia, New Zealand, the United Arab Emirates, India and Qatar.
Oaks Hotels, Resorts & Suites is a member of the Global Hotel Alliance (GHA), the world's largest alliance of independent hotel brands.
www.Oakshotels.com | Facebook www.facebook.com/Oakshotels |
Instagram @Oaks_Hotels #OaksHotels | YouTube www.youtube.com/Oakshotels
About Opera Australia
Opera Australia is the country's largest performing arts company with a mission to perform some of the greatest music ever written to as many people as possible.
They perform operas, musicals and concerts in their home venues, the Sydney Opera House and Arts Centre Melbourne as well as in community halls and theatres everywhere from the red centre in the Northern Territory to the lush wine regions of Western Australia.
They perform on Sydney Harbour and in schools all over NSW and Victoria. Their most popular operas have been released in cinemas in Australia and all over the world. As one of the world's busiest opera companies, Opera Australia presents more than 600 performances every year. More than half a million people see their work on stage, and many more can tune into radio broadcasts of their performances.

www.opera.org.au | Facebook www.facebook.com/OperaAustralia |
Instagram @OperaAustralia #OperaAustralia | YouTube www.youtube.com/operaaustralia
For media enquiries, please contact:
Liz Evans
PR & Communications Manager
Email: lize@minorhotels.com.au
Phone: +61 455 104 869