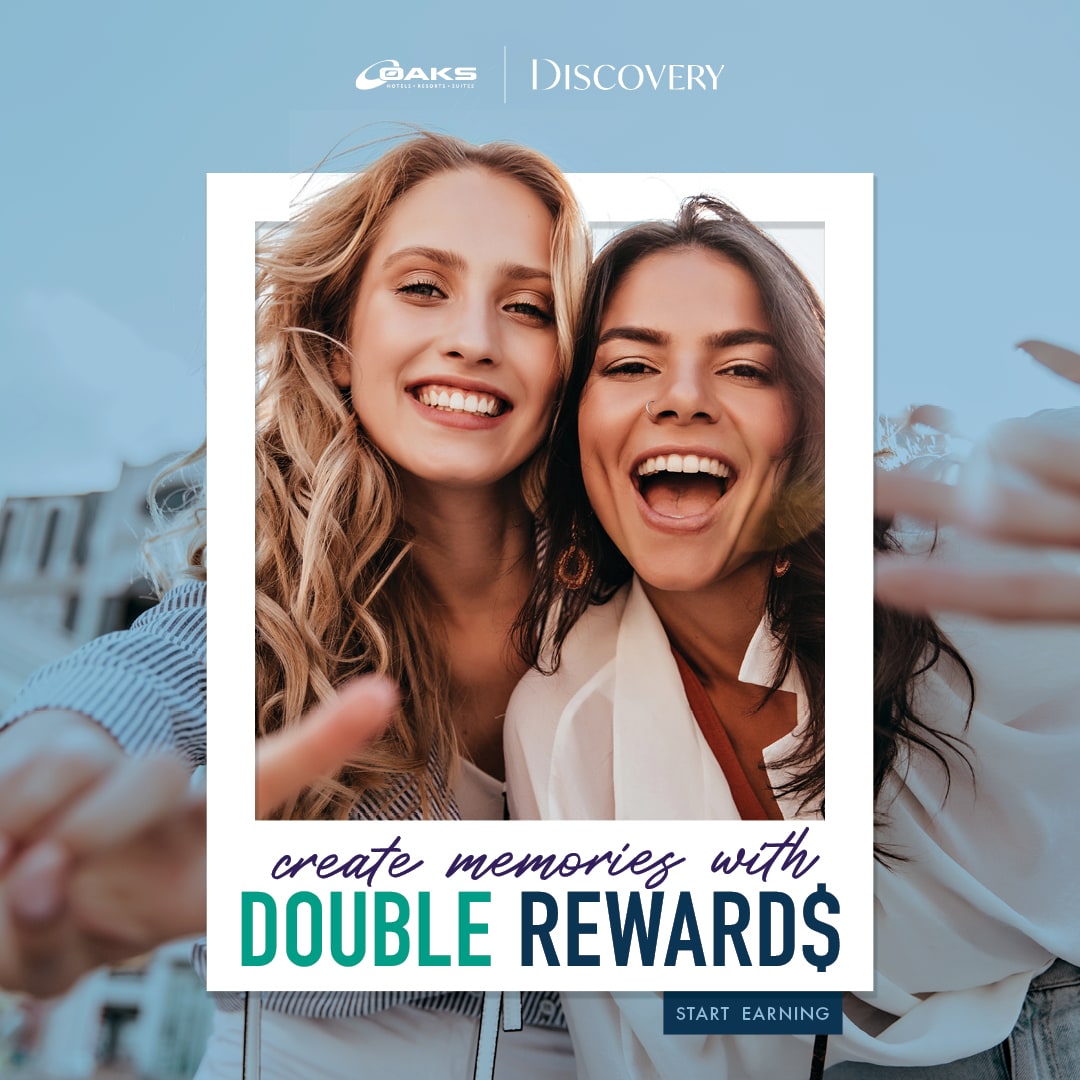 Oaks Discovery Members Can Stay Longer and Experience More with The Double Discovery Dollar Promotion
August 2022: Oaks Hotels, Resorts & Suites announces the Double DISCOVERY Dollar (D$) promotion, enabling members of loyalty program, Oaks DISCOVERY to earn more, as they indulge in stays across Oaks' portfolio of over 55 properties across Australia and New Zealand.

The Double D$ promotion starts on 8th August and runs through to 31st August 2022 with stays to be completed by 31st October. The promotion is open to all Oaks DISCOVERY members, including new members; they can simply opt in as part of their free membership. After registering, members will earn twice the usual amount of D$ for all eligible spend on their stays through the end of October, when booked on oakshotels.com.
At checkout, D$ earned on previous stays can be used on future stays at any of Oaks' 55 properties across Australia and New Zealand, and extras as a form of payment. Guests can opt for a beachside break on Queensland's Sunshine Coast, a Top End adventure in Darwin, a city staycation in Melbourne or a weekend of culinary indulgence in the Hunter Valley. Members start earning D$ from day one, while the percentage earned on eligible spend increases with membership status.

Customers can partake in the promotion by signing up for the Oaks DISCOVERY program for free here. D$ rewards will be automatically credited to your Oaks DISCOVERY account within 48 hours of checkout and be eligible for six months from the date of issuance, valid at all properties within the collection.

The Oaks DISCOVERY program and D$ are accepted at more than 800 hotels across more than 35 independent hotel brands worldwide. For more information about GHA hotel brands, please click here.

For more information visit this link.
For more information or to arrange an interview, please contact:
Anne Wild & Associates – PR Representatives, Australia and New Zealand
Anna Caswell or Nikki Collins
Email: acaswell@awassociates.com.au or ncollins@awassociates.com.au
Phone: +61 2 9440 0414 | +61 402 336 082 | +61 405 533 362

About Oaks Hotels, Resorts & Suites
An industry leader in, Oaks Hotels, Resorts & Suites provide a home away from home for both savvy corporate travellers and leisure tourists alike. Maintaining consistently high standards of amenities and services across the board, each Oaks property prides itself on connecting the visitor to the spirit of its locale. Exemplified by quality and affordability, Oaks welcomes guests to an ever-expanding group of more than 60 properties in Australia, New Zealand, the United Arab Emirates, India and Qatar.
Oaks Hotels, Resorts & Suites is a member of the Global Hotel Alliance (GHA), the world's largest alliance of independent hotel brands.

About Global Hotel Alliance (GHA)
Global Hotel Alliance (GHA) brings together a unique collection of independent hospitality brands with GHA DISCOVERY, a multi-brand loyalty programme leveraging a shared technology platform. Through membership in GHA, brands expand their global reach, drive incremental revenue, and reduce dependence on third-party channels, all while maintaining management independence and individual positioning. GHA represents a collection of more than 35 brands with over 800 hotels in 85 countries serving 11 million members. The award-winning GHA DISCOVERY programme generates approximately $2 billion in revenue and more than eight million room nights annually. GHA's brands currently include Anantara, Araiya, Avani, Campbell Gray, Capella, Corinthia, Discovery Destinations, Divani, Doyle, Elewana, Fauchon, GLO, JA Resorts, Kempinski, Leela, Lungarno, Marco Polo, Mysk, Niccolo, Nikki Beach, NUO, Oaks, Outrigger, Pan Pacific, PARKROYAL COLLECTION, PARKROYAL, Patina, The Residence by Cenizaro, Shaza, Sukhothai, Sun International, Tivoli, Ultratravel Collection and Viceroy. For more information, visit globalhotelalliance.com.
About GHA Discovery
Launched in 2010, GHA DISCOVERY is the world's largest loyalty programme for independent hotel brands, featuring more than 800 hotels, resorts and palaces across more than 35 brands. Members enjoy VIP recognition, thoughtful benefits and generous rewards at home or away. Recently the programme has evolved to include an additional tier and flexible paths to upgrade through nights/stays, eligible purchases or number of brands stayed, making it easier and faster for members to reach elite status. Unlike more traditional programmes, GHA DISCOVERY does not ask members to count points towards their next upgrade. Instead, members earn and spend DISCOVERY Dollars (D$), an exclusive rewards currency. They also enjoy members-only Experiences curated by each hotel and have access to properties close to home, without a stay, through member-only Local Offers.