Gladstone, Queensland, Australia
Oaks Gladstone Grand Hotel
"Great Value"
I have stayed at a number of Oaks Hotels, and you know what you are going to get. The rooms are all self-contained, modern, comfortable and great value for money. This hotel is close to restaurants and the city centre. Also close to the Harbour and the Entertainment Centre.
— ange142016, TripAdvisorRead Reviews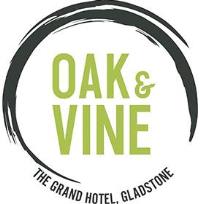 BEST SEAFOOD RESTAURANT IN GLADSTONE
Sporting a fresh, bright and leafy interior, Oak & Vine offers a dining experience unlike anything else in Gladstone featuring a brilliant menu with tasty seafood dishes plus much more. Mouth-watering, Moreton Bay bugs, Blue Swimmer Crab Stir-fry and our take on classic fish and chips, the seafood lover will be spoilt for choice!
However, while seafood is our specialty, we also offer a range of non-seafood dishes including char-grilled steaks, pasta dishes, fresh salads and sides to satisfy all tastes.
We cater for the whole family with $5 kids' dishes including a drink and dessert 7 days a week. Oak & Vine also features a Bar which boasts a diverse range of draught beers, Australian and New Zealand wines and bespoke cocktails to enjoy with your meal, after work or just a night out with friends.
Opening Hours
Monday to Sunday from 4:00pm
Dinner Menu
Vegan Menu
Oak & Vine Gallery
Open for Lunch and Dinner diners with a wide range of authentic dishes, draught beers, Australian wines and cocktails.
Oaks Hotels & Resorts