Melbourne, Victoria, Australia
WRAP on Southbank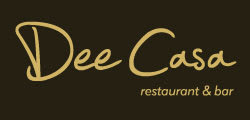 RESTAURANT MELBOURNE CBD
Located at the entrance of WRAP on Southbank Dee Casa Restaurant and Bar is a rustic-chic venue with exposed-brick walls, a marble bar with timber accents and elegant finishings.
Wake up with our tasty breakfast menu and great coffee or visit in the evening to experience an array of delicious tapas and exotic international dinner options. Indulge in excellent wines and ice cold beers or simply relax with one of our tempting cocktails or an array of whiskeys and spirits.
We look forward to your company next time you visit.
---
OPENING HOURS
WEEKDAYS
Breakfast: 7.00am – 11.00am (Monday- Sunday)
Dinner: 5.30pm - 9.30pm (Monday to Sunday)
Happy Hour: 5.00pm - 7.00pm (Monday to Sunday)
RESERVATIONS
Information and bookings Call: 03 9249 6300
Email: RMWrap@theoaksgroup.com.au
Room Service Menu
Breakfast Menu
Happy Hour Menu
Dinner Menu
Free Dessert Offer
Dee Casa Restaurant & Bar
Dee Casa offers a comfortable and stylish dinning experience, an ideal place to share delicious and joyful moment with your friends and family.
Oaks Hotels & Resorts