Adventure | Family | City
21 March 2023
Your Guide To The Ultimate Day In Darwin
Get a taste for the Top End with a whirlwind 24-hour adventure in Darwin. If you only have one day in the Northern Territory's balmy capital, make it a great one and follow our guide on how to spend your time in the tropical city.
You can squeeze in a daring dive with crocodiles, look for a mysterious owl at the Botanic Gardens, splash about at water parks, catch man-made waves or a flick beneath the stars, and end the day with a magical sunset (and seafood) by the glittering waterfront.
Here's how to make the most of one daring day out in Darwin.
Kick Off with crocs at Crocosaurus Cove
This is not an experience for an empty stomach, so rise and shine with enough time for breakfast at your hotel, then start the day face-to-face with ginormous saltwater crocodiles at Darwin's famous Crocosaurus Cove.
If you're feeling brave, dive into the Cage of Death for an up-close encounter with one of the largest saltwater crocodiles in captivity. This glass contraption lowers you into the water so you can swim alongside these giant dino-reptiles.
If Australia's only crocodile dive isn't your cup of tea, stay on dry land and watch the twice-daily crocodile and fish-feeding show; explore exhibits featuring the world's largest range of Aussie reptiles; or hold a baby croc – but be careful, they still bite!
Crocosaurus Cove is a must-do for all first-time visitors to the Northern Territory, and it's conveniently located in the heart of the city on Mitchell Street.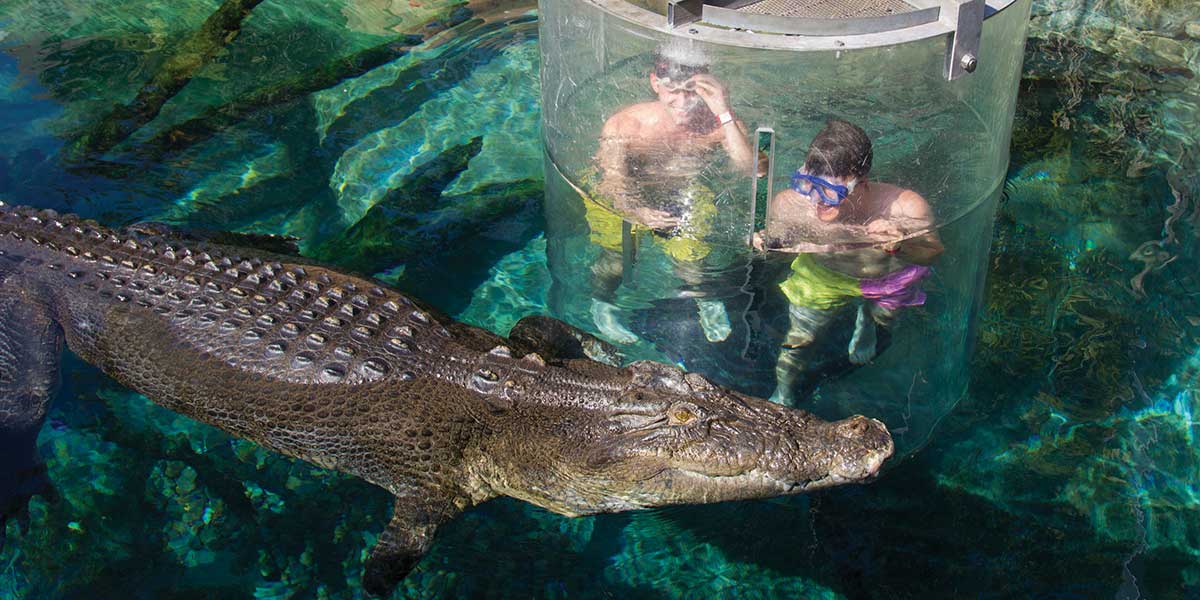 Wander the George Brown Darwin Botanic Gardens
As Australia's northernmost capital city, Darwin has native flora unlike its southern counterparts. Spend a few hours wandering the leafy George Brown Darwin Botanic Gardens. Within the 42 hectares of gardens you can pass through monsoon forests, coastal dunes, mangroves and open woodlands, exploring new plants, flowers and birdlife along the way.
Meet butterflies in the sensory garden, look for the Rufous owl in the rainforest, and let kids go wild climbing the birdcage tree house or playing on the viking swing.
The gardens are an easy five-minute drive or 30-minute walk from Crocasaurus Cove, and there's an onsite cafe to pause at for a refreshing drink or casual lunch.
Splash about at Leanyer Recreation Park
If you have kids in tow, this will no doubt be the highlight of their day. The Leanyer Recreation Park is home to three epic waterslides, a splash play park, regular playground, skatepark and basketball court. And the entry fee? Free!
Let the kids loose on three colourful waterslides that start at 14m above ground. While riders have to be at least 110cm tall, there are also shallow toddler pools and a fun water playground for younger children. Every few minutes a giant blue bucket tips over, dumping a cascade of water over children running about below.
Pack a picnic, make use of the public barbecues or pick up snacks at the kiosk and spend most of the afternoon enjoying the free playgrounds, pools and fun facilities. Leanyer Recreation Park is a 15km or 15-minute drive from downtown Darwin – you'll need your own wheels, or you can take a cab.
Chase waves at the Wave Lagoon
After a great day of adventure it's time to relax by the waterfront… but if you've still got steam to burn, grab your towel and plunge into the Darwin Wave Lagoon. The waves here are always pumping.
The man-made wave pool rolls out 10 different wave patterns, from gentle rolling swell to those up to 1.2 metres high. You can borrow a boogie board or rubber tube at the pool and go wild catching as many waves as you can. Wind down your great day out with a paddle or play in the nearby Recreation Lagoon, or head straight to a bar by the waterfront.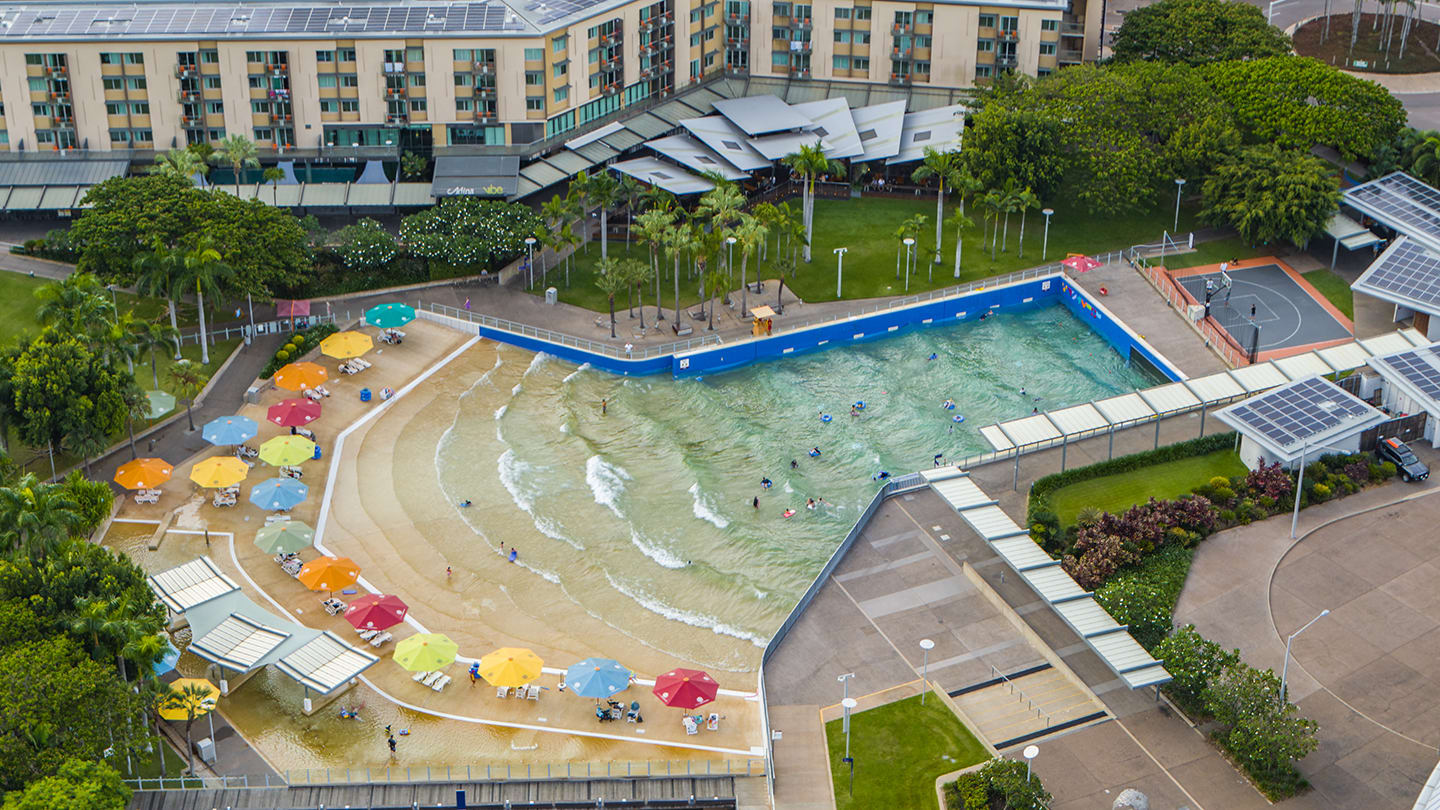 Watch day turn to night at the Darwin Waterfront
The Darwin Waterfront is home to high-end restaurants and casual pubs and cafes where you can kick back with a glass of wine and watch day turn to night.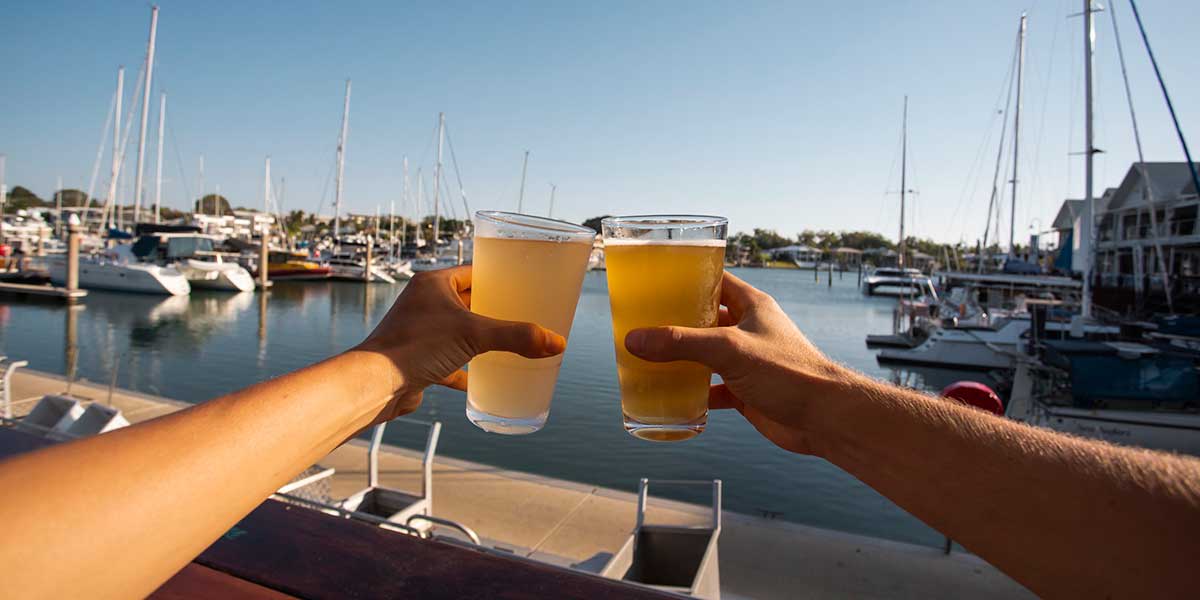 Feast on the best fresh local seafood at Oyster Bar or Stokes Hill Wharf, go for Korean eats at Bannsang, try South East Asian cuisine at CHOW!, share a pizza at Bella, and tuck into tacos at Hot Tamale. The Darwin Waterfront has more than 20 eateries to choose from, so book a table or see how you're feeling on the day.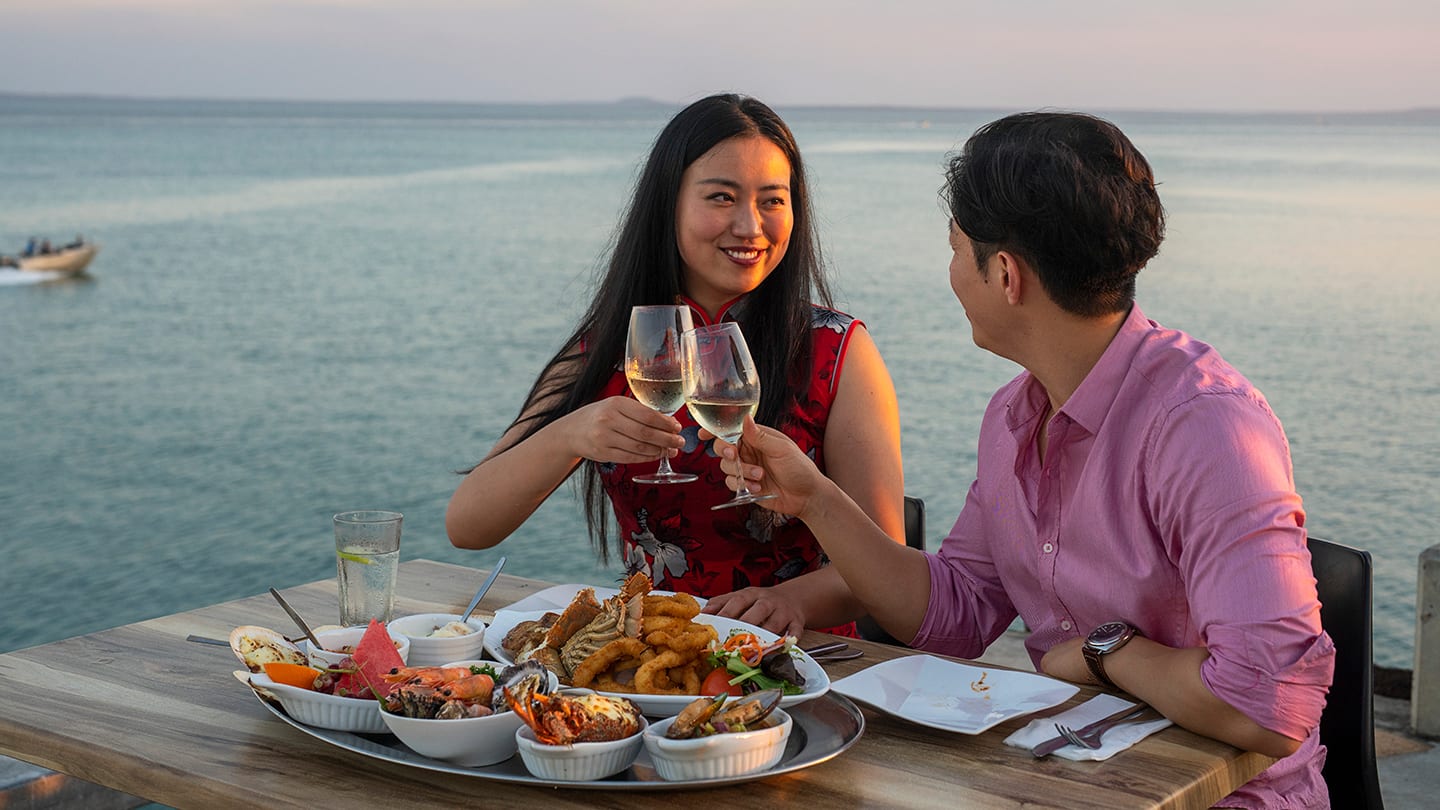 If you're feeling extra special on this balmy evening in Darwin, board a historic boat or catamaran for a sunset or dinner cruise and take in the city and surrounds from the water. If it's the dry season, lock in a flick at the seasonal open-air Deckchair Cinema and wander over to the Mindel Beach Sunset Markets to browse the stalls and listen to live music.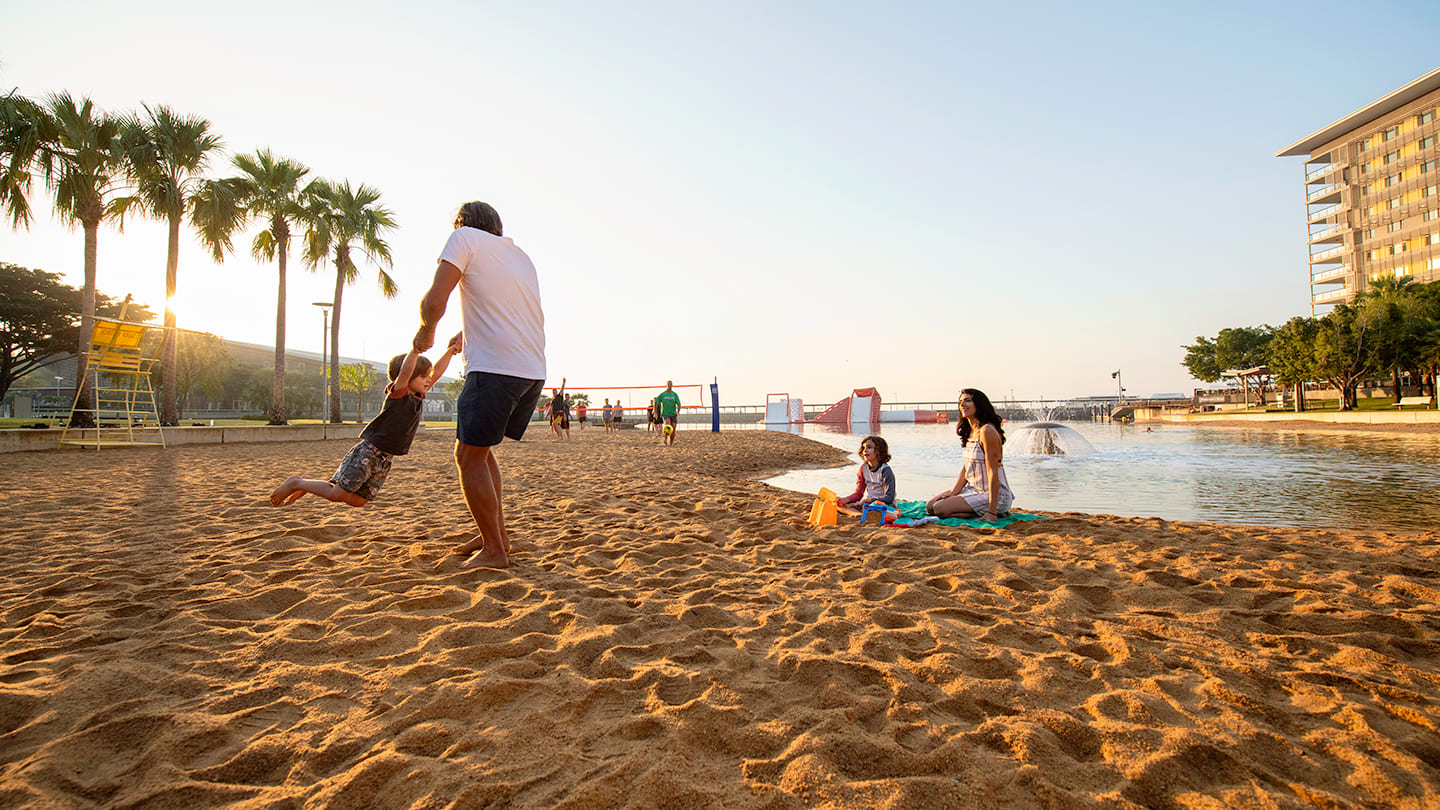 And that's one perfect day in Darwin… who's ready for day two?