Adventure | Family
19 August 2021
4 Best Places To Go Whale Watching in Queensland
Each year between June and November some 25,000 humpback whales leave the cool waters of Antarctica for the warm tropics of Queensland. As they journey towards the far north and back you can spot the majestic creatures splashing, jumping and playing about as they make the 10,000km round trek.
The whales venture north to give birth in Queensland's inviting warm waters, before turning around and bringing their calves back to icy Antarctica. Along the journey, the playful parents teach their newborns tricks and life skills – and you can witness the action up close.
Humpback whales are surprisingly gentle and curious creatures, which make a whale watching adventure an epic memory you will never forget. Here are the four best places to witness the whales up close in Queensland.
Whale watching on the Gold Coast
The Gold Coast is one of Australia's premier whale watching hotspots and you can get up close with the giant majestic humpbacks on a Whale Watching Cruise with Sea World. Just 20 minutes after leaving the harbour you can be face-to-fin with the creatures aboard one of Australia's newest and most luxurious purpose-built whale watching vessels.

Bring your binoculars and spread out over six viewing platforms and three levels. The Sea World boats even have underwater microphones, so you can listen to unique whale songs coming in live from the ocean floor.

This 2.5 hour cruise will bring you up close with the world's largest animals to the backdrop of the Surfers Paradise skyline. Aboard the boat knowledgeable staff will share interesting facts and stories about these fascinating marine animals.

During the season, there are three tours a day usually at 9am, 12pm and 3pm. Best of all, you can book with Oaks and save!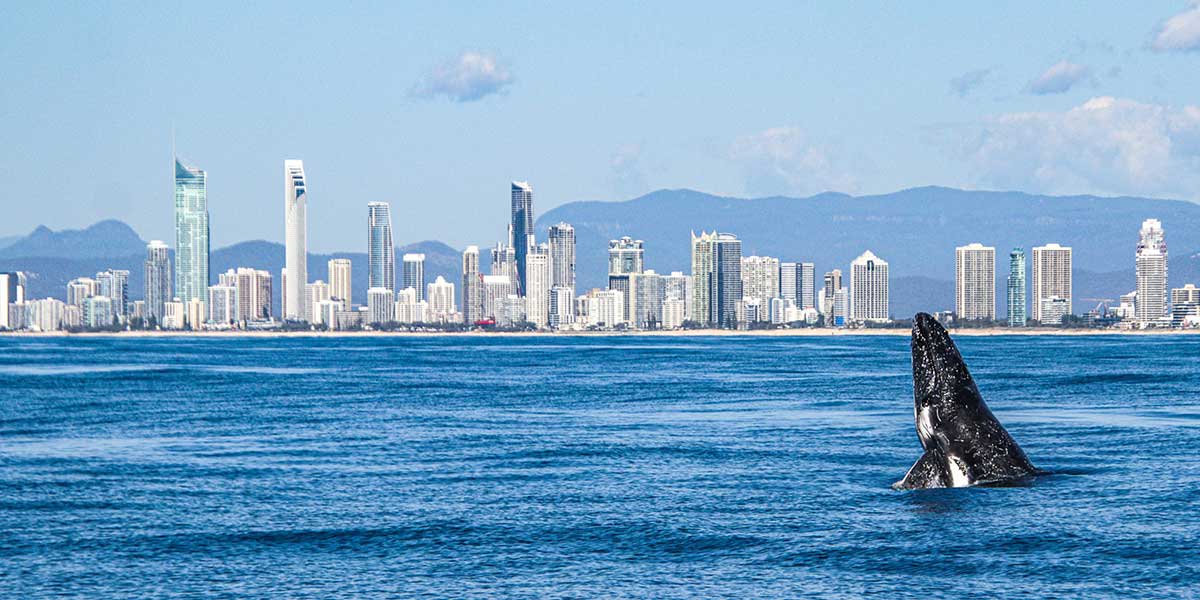 Experience a whale watching lunch cruise in Brisbane
Whale watching in the Queensland capital? You bet. Swap downtown Brisbane for the waters of Moreton Bay when you step onboard the MV Eye Spy for a 4.5-hour cruise in pursuit of gorgeous Humpback Whales.

You'll be in the hands of captain Kerry Lopez, the only female captain that owns and skippers a whale watching venture in the South Pacific rim. Enjoy her expert marine commentary as you watch the annual migration of these gentle giants through Moreton Bay Marine Park with Brisbane Whale Watching. You'll be able to witness the whale behaviour – like breaches, tail slaps and more – from 360-degree viewing decks as they come within metres of the boat.

Perhaps best of all, this experience includes a picnic lunch and hotel transfers. Your gourmet lunch hamper is loaded with chicken, ham, garden salad, potato salad, fruit and more, plus the transfers will take you from Oaks in Brisbane CBD straight to the port.

This experience is wheelchair accessible plus there's a licensed bar on board. Expect daily departures from une until mid October. You can book with Oaks and save.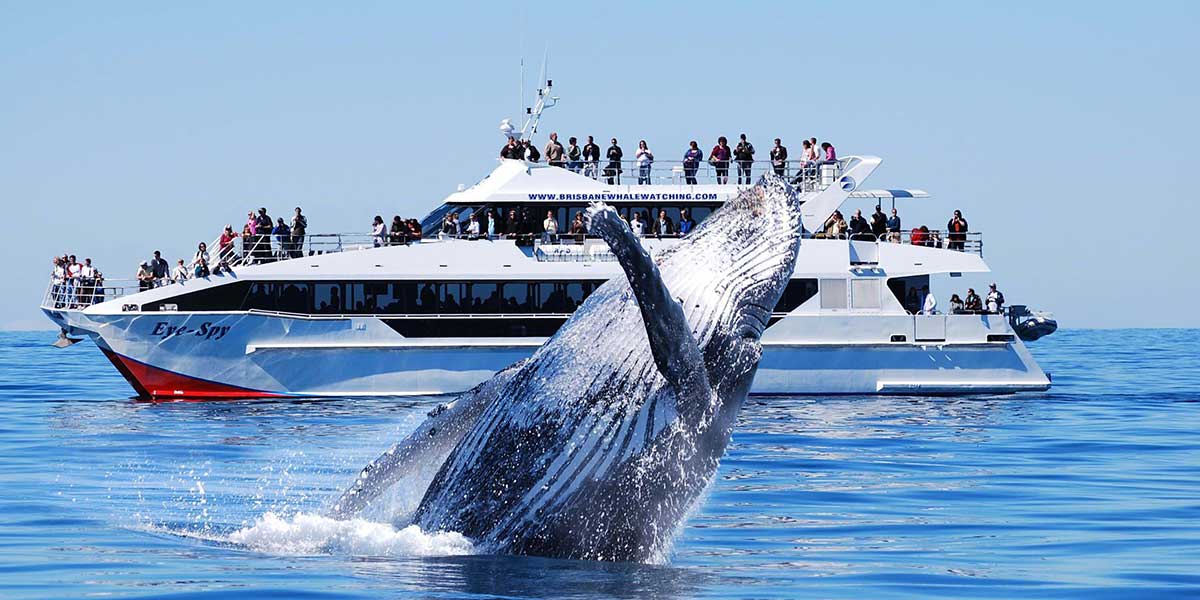 Take a whale watching cruise on the Sunshine Coast
Hop aboard a luxury 65-foot catamaran on the Sunshine Coast for an amazing three-hour cruise from Mooloolaba. Learn about the highly intelligent, massive creatures as they splash, play and come right up to the vessel. Seriously, they'll be so close you can almost touch them!

Leaving from The Wharf at Mooloolaba, this cruise ventures out into the seas where you can spy the gentle giants from the spacious decks, along with the stunning Sunshine Coast coastline. And if they're hiding that particular day there's a money-back guarantee, of course.

Timing wise, there's a bunch of different daily departures between June and October. Book with Oaks and save.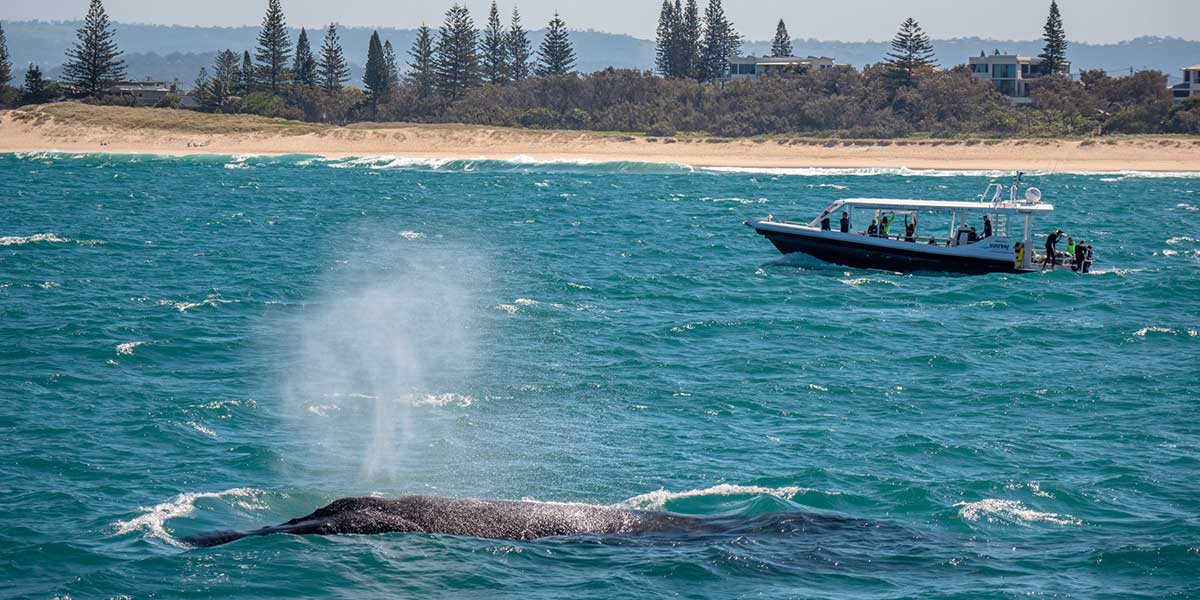 Go whale watching in Hervey Bay
The world's first official Whale Heritage site, Hervey Bay is the spiritual homeground and one of the best places in the world to view these majestic creatures splashing about. Each year around 7,000 humpback whales and their newborn calves choose to enter the bay and spend time resting, playing and learning in the calm and safe waters.

Scientists have found it's the only place the whales actually stop their migration to socialise together. That's why it's one of the best places to board a whale watching cruise and meet the whales yourself as they enjoy time off on their own vacation.

Tasmin Ventures runs four-hour trips with a luxurious 20-metre catamaran, complete with underwater viewing window. Besides offering a guaranteed whale sighting, Tasmin also puts on a great morning or afternoon tea with biscuits, cake and antipasto. Book your cruise with Oaks and save.