Explore Far North Queensland's 7 Most Spectacular Waterfall
Tropical North Queensland is absolutely brimming with incredible waterfalls, lagoons and creeks that flow from the mountains into the Great Barrier Reef. Visit during the wet season to see the raging torrents and mighty power of places like Barron Falls, or come in the drier months for peaceful dips beneath cascading falls.
There are so many spectacular waterfalls to add to your Far North Queensland's itinerary. Here are seven of our favourites to add to your tropical Queensland road trip.
1. Crystal Cascades | 28-minute drive from Cairns
These secluded freshwater swimming holes and waterfalls are hidden in the rainforest just outside Cairns. One of Tropical North Queensland's best kept secrets, the pools stay cool year-round and feature huge granite boulders.
From the carpark a short 1.5 kilometre paved trail will lead you to several swimming holes, ending at the waterfall. Bring a picnic or barbecue and spend the day here.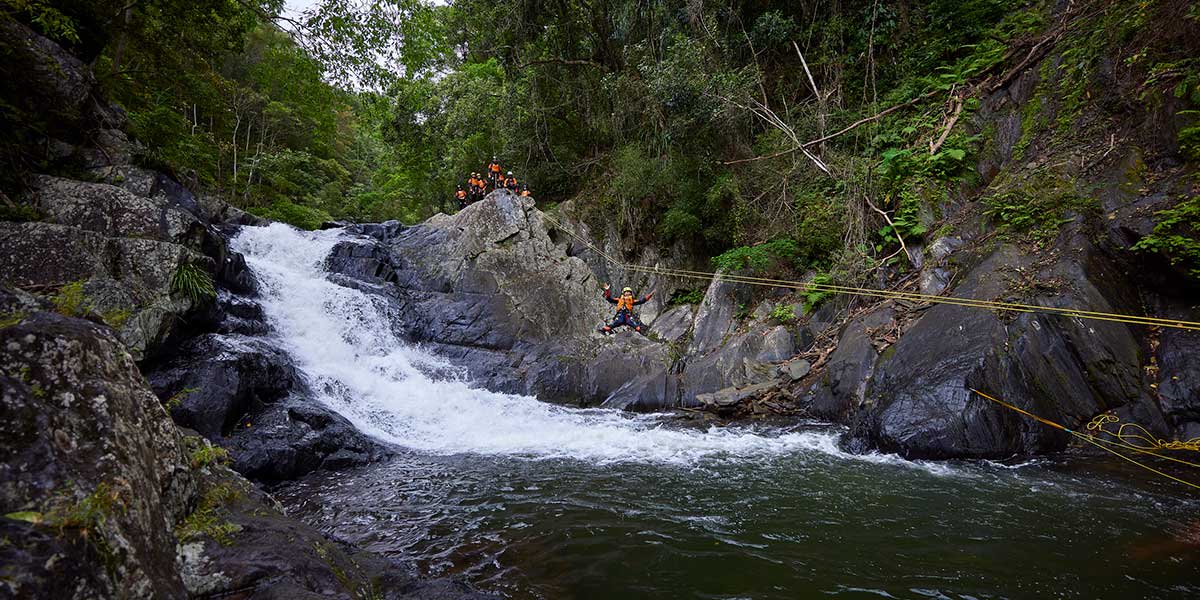 2. Stoney Creek | 20-minute drive from Cairns
Located within Barron Gorge National Park, Stoney Creek is a local favourite just a short drive from Cairns CBD. There's a deep swimming hole just a few minutes from the car park, but if you keep following the creek or walking track for 25 minutes you'll reach the gorgeous Old Weir Falls.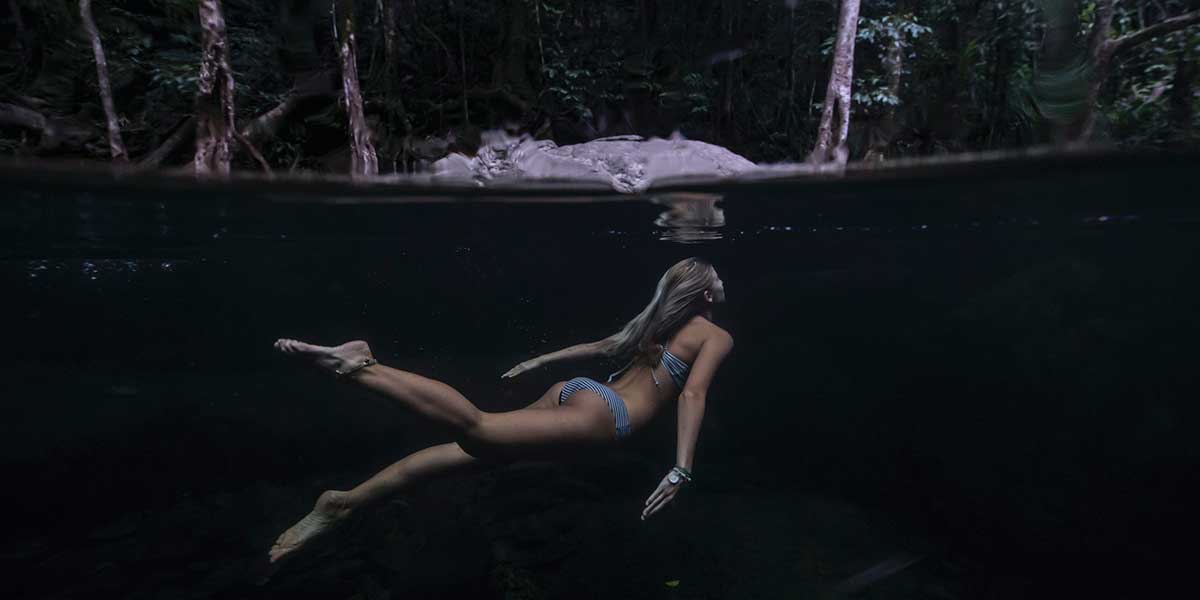 3. Tchupala, Wallicher and Nandroya Falls | 90-minute drive from Cairns
These three spectacular waterfalls are part of a network in the Palmerstone section of Wooroonooran National Park. Tchupala and Wallicher Falls can be found on a shared trailhead along the Palmerston Highway between Innisfail and Millaa Millaa. While Nandroya Falls are not too far away, just an extra three minutes up the highway.
From the trail head off the Palmerston Highway, the Wallicher Falls are a one-kilometre walk, and the Tchapala Falls are only 500 metres away. Easy! Meanwhile you can find Nandroya Falls' wide cascades and tall drop along a six-kilometre trail departing from Henrietta Creek campground.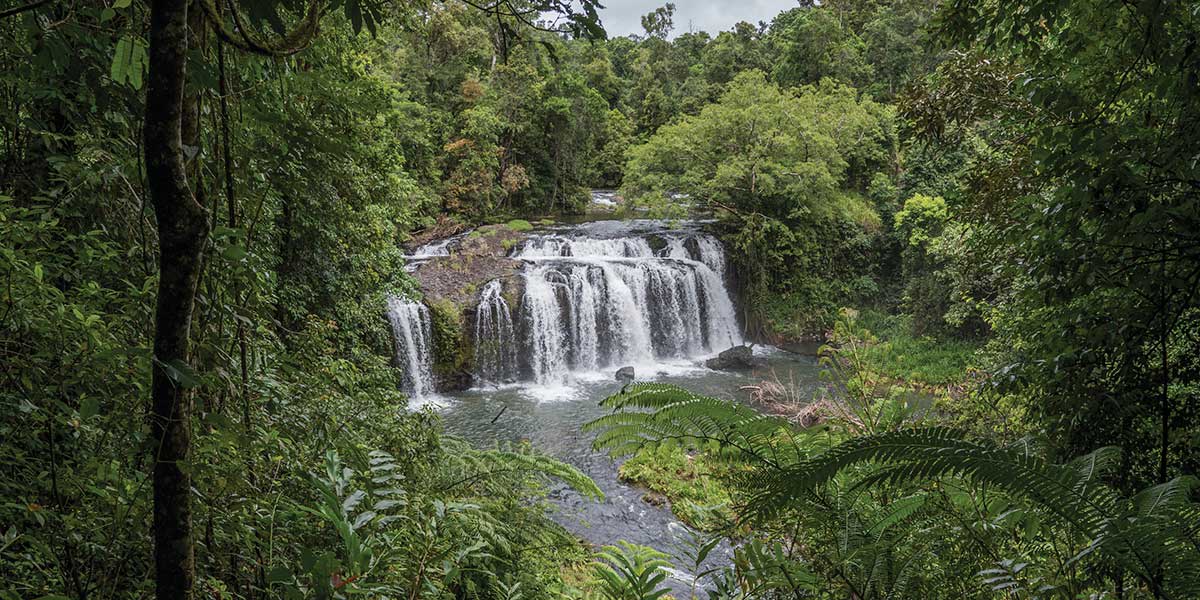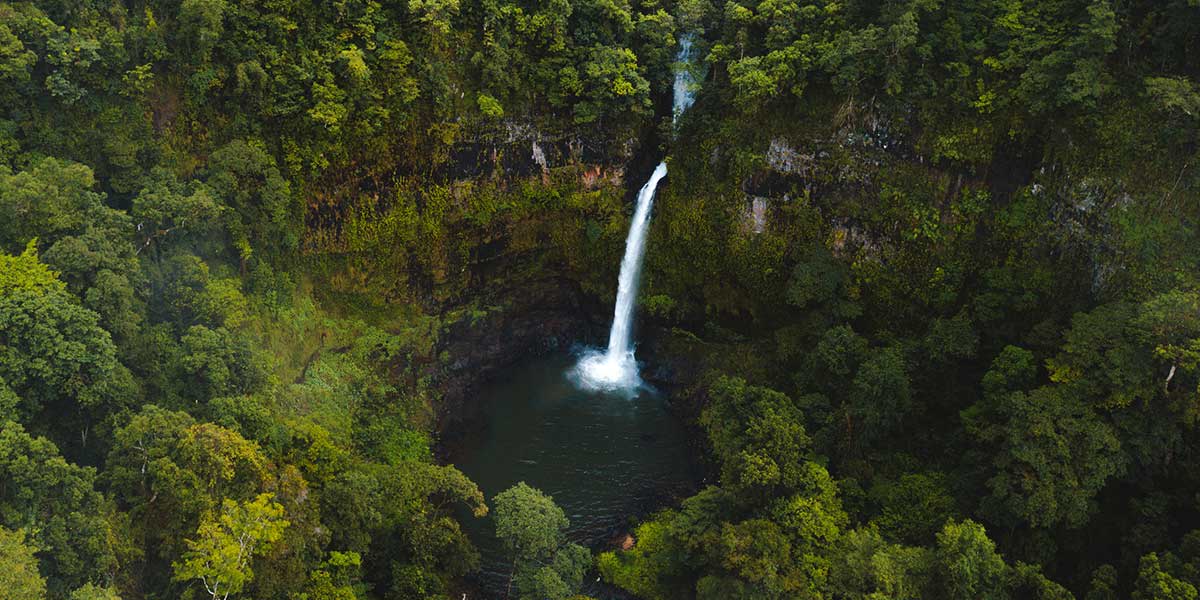 4. Josephine Falls | 1-hour drive from Cairns
A playground for the young and young at heart, these gorgeous falls feature a natural waterslide, a 1.2 kilometre return walk through lush, World Heritage-listed rainforest and brilliant viewing decks. The stunning Josephine Falls are fed by rains falling on Queensland's highest peak, Bartle Frere. You can witness the mountain looming high above from the picnic area.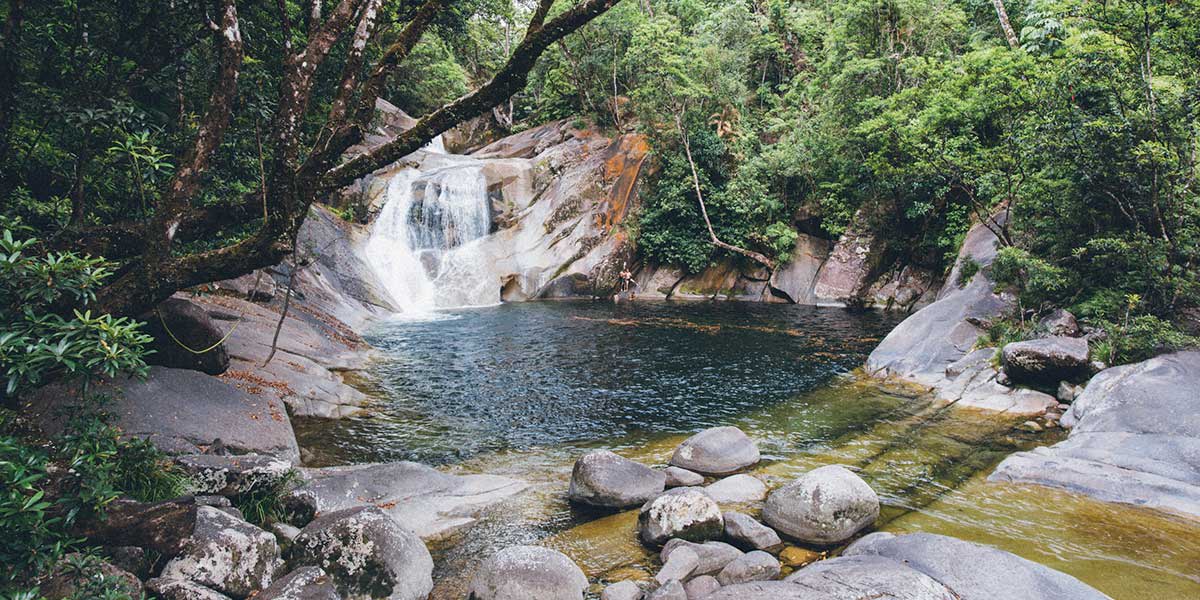 5. Millaa Millaa, Zillie and Ellinjaa Falls | 1-hour & 40-minute drive from Cairns
This trio of cascading beauty form the Waterfalls Circuit. These are some of the most photographed waterfalls in Australia. Start at the World Heritage-listed 18-metre plunge known as Millaa Millaa Falls. Here the water cascades into an inviting waterhole surrounded by lush verdant flora.
A 10-minute drive away is Zillie Falls, where you can soak in the waters from a viewing platform a short walk from the carpark. And finally enjoy a refreshing dip at Ellinjaa Falls, just a 10-minute drive from Zillie. Here the water tumbles over a series of lava columns. A 200-metre walkway leads to the base of the falls where you can occasionally spot turtles and platypus.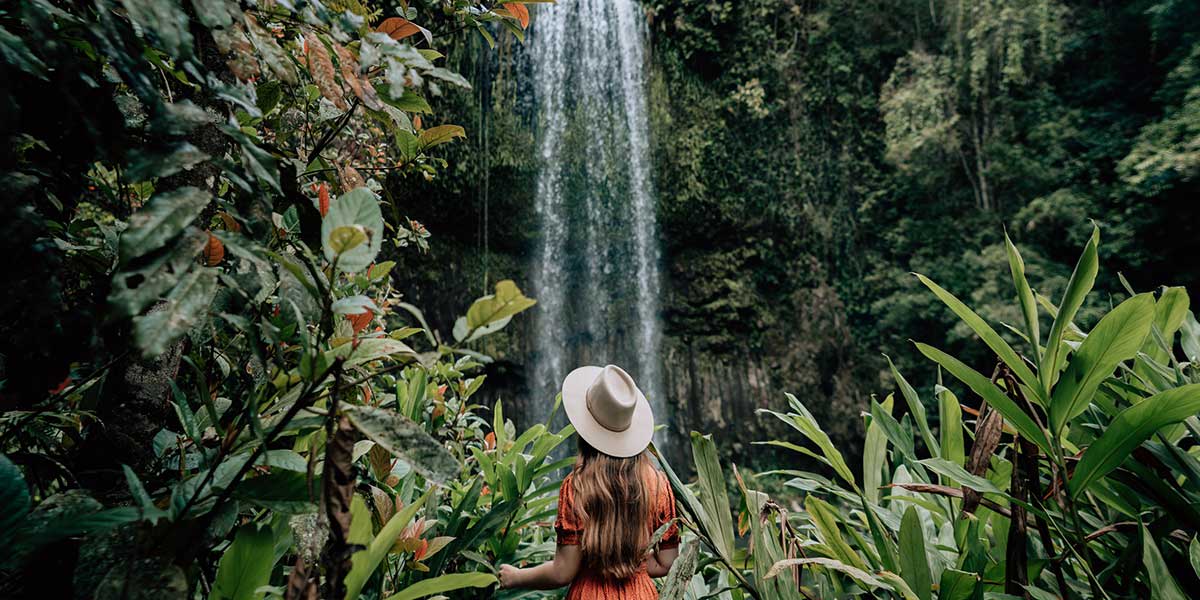 6. Malanda Falls | 1-hour & 20-minute drive from Cairns
Falling from four metres high and 30 metres wide, the crisp freshwater of Malanda Falls tumbles over old basalt lava flows. Enjoy a quick dip in yet another special water hole, wander one of the two rainforest walkways or sit down for a glorious picnic in paradise.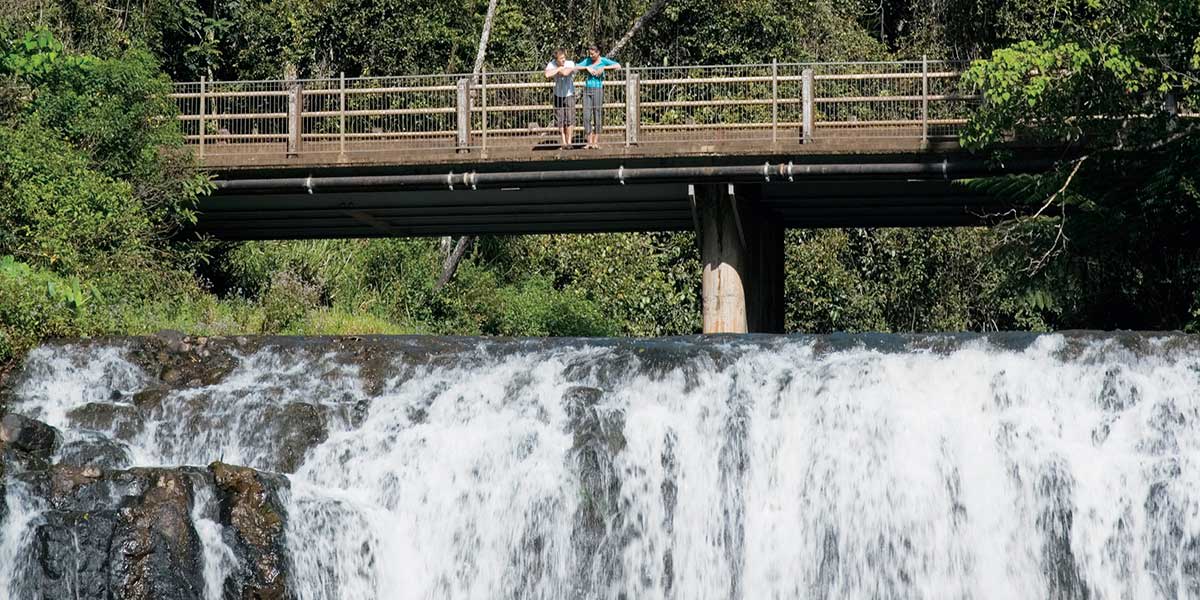 7. Barron Falls | 40-minute drive from Cairns
Wind your way through the lush forest on the elevated walkway before you come to the Din Din Barron Falls lookouts. In the tropical wet season, become enveloped in a cloud of mist as the falls thunder spectacularly down the gorge with all the power and rage you'd expect.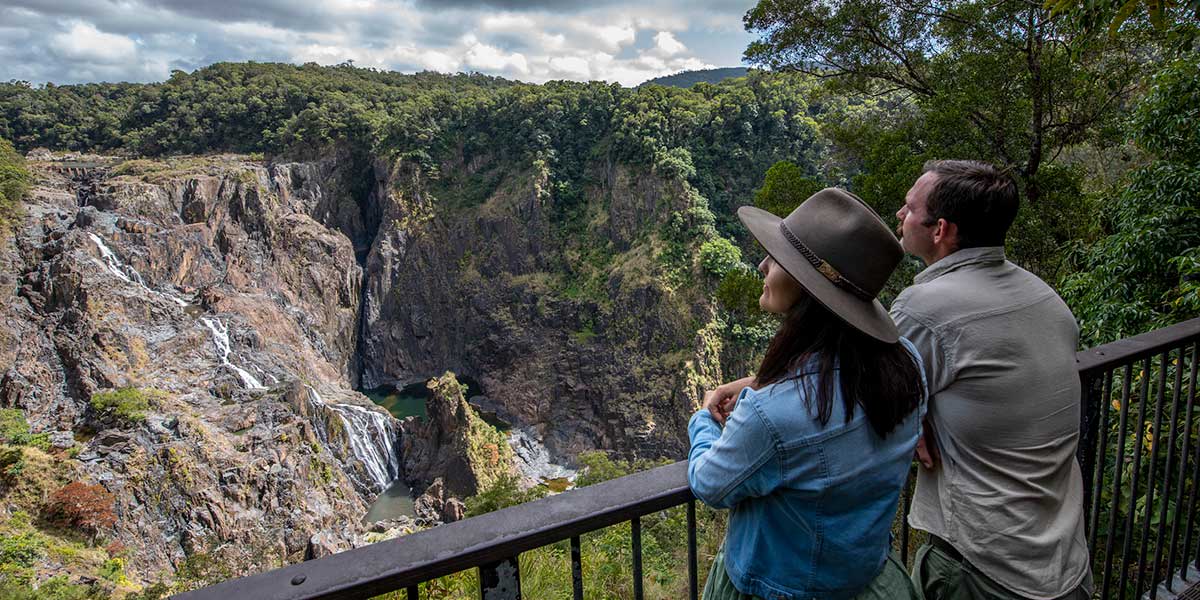 Back
Oaks Hotels & Resorts