Casuarina, Kingscliff, New South Wales
Oaks Casuarina Santai Resort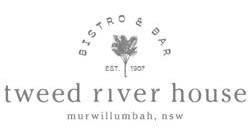 Tweed River House and Bistro New South Wales
From the vantage point of the verdant riverbanks, settled at the foothills of the tweed caldera in Murwillumbah, the grand century old tweed river house has been lovingly restored, preserving the original character and charm.

Today, this offsite restaurant Tweed River House presents a relaxed, plantation style heritage bistro where you can dine taking in the beauty of a bygone era, with captivating views of the lush cane fields, tweed river and mountain range-definitely a place to dine, drink and socialise.

In the kitchen, Executive Chef Joseph Mcgrattan draws on the vibrant flavours of locally grown, organic and indigenous ingredients – to prepare his ever-evolving seasonal menus.

Joseph's gastronomic talents – garnered in the kitchens of michelin-starred restaurants in europe are grounded in classic techniques that align with his love for local fresh produce, creating a contemporary culinary experience. Delicious vegan, gluten free and children's menus also offered.

The bistro offers prix fixe 2, 3 and 5 course menus served inside in the dining room or outside undercover on the river terrace

For a truly elegant experience, we offer a degustation menu served exclusively in the magnificent chandelier private dining room.

To make a booking with us, please book a table below.

OPENING HOURS:
Lunch: Thursday to Sunday 12pm – 3.00pm (last table booking)
Dinner: Friday & Saturday 5.30pm – 8.00pm (last table booking)
All Day Menu
Oaks Hotels & Resorts