Hunter Valley, New South Wales, Australia
Oaks Cypress Lakes Resort
— RESORT OVERVIEW,
Nestled amongst some of the most premium Hunter Valley wine producers and set against the Broken Back Mountain Range, sits Oaks Cypress Lakes Resort. Featuring one, two and three-bedroom villas, the iconic 300-acre resort also offers premium facilities including; a pro golf course & country club, two restaurants, two bars, three pools and two tennis courts.
Features:
WiFi Inclusive
Winner of Australia's Best Golf Hotel
18-Hole Championship Golf Course & Country Club
2 Tennis Courts
3 Swimming Pools
2 Restaurants & Bars
Gymnasium
Jacuzzi
Complimentary Parking
Non-Smoking Property
World-class Meetings & Events Facilities
Picturesque Wedding Venue
Please Note:
Complimentary parking bays are located next to each villa, reception, restaurant and function facilities.
Breakfast: Included breakfast is valued at $35 per person, per day.
---
Address: 15 Thompsons Rd, Pokolbin NSW 2320, Australia
Reservations: 1300 886 091
Reception: +61 2 4993 1555
Email: cypresslakes@theoaksgroup.com.au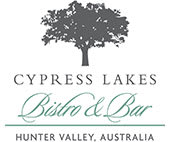 Popular Hunter Valley Bistro & Bar
Buffet breakfast daily is bright, fun and entertaining – a meeting place for family, good mates and colleagues. All the usual fare with espresso coffee available offers arguably the best value proposition in the region. Bistro lunch is casual – burgers, sangas and salads. Kids are looked after too. The Bar, well, it's a bar and on weekends live entertainment is enjoyed with a cold beverage and the warm sun on your back. Casual dining and a social bar where Golf members, Resort guests and Shire locals celebrate long afternoons simply enjoying time with family and good friends. How one might dream the perfect backyard get together complemented by spectacular views over Cypress Lake and the fairways beyond.
Opening Hours:
Daily from 12.00 noon to 9.00 pm
Takeaway espresso and barista coffee
Bottleshop
Reservation
E: RBMCypressLakes@theoaksgroup.com.au
Or click below to make your booking online.
Oaks Hotels & Resorts