Hunter Valley, New South Wales, Australia
Oaks Cypress Lakes Resort
Amazing Hunter Valley Conference Venue
I held our annual staff conference at Cypress Lakes for a team of 50. Stunning service, from the accommodation to the food and the conference facilities provided. This was the first time that I didnt have even 1 staff complaint or gripe (& I have a long history in events!) Great location, great service, great food - I cant recommend enough. Also, the AV team they use are flawless, exactly what you need when running a big 2 day event!
— Gai, TripAdvisorRead Reviews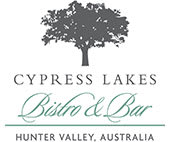 Popular Hunter Valley Bistro & Bar
Buffet breakfast daily is bright, fun and entertaining – a meeting place for family, good mates and colleagues. All the usual fare with espresso coffee available offers arguably the best value proposition in the region. Bistro lunch is casual – burgers, sangas and salads. Kids are looked after too. The Bar, well, it's a bar and on weekends live entertainment is enjoyed with a cold beverage and the warm sun on your back. Casual dining and a social bar where Golf members, Resort guests and Shire locals celebrate long afternoons simply enjoying time with family and good friends. How one might dream the perfect backyard get together complemented by spectacular views over Cypress Lake and the fairways beyond.
Opening Hours:
Daily from 12.00 noon to 9.00 pm
Takeaway espresso and barista coffee
Bottleshop
Reservation: +61 2 4993 1555
Email: RBMCypressLakes@theoaksgroup.com.au
Or Click below to make your booking online.
Oaks Hotels & Resorts