Townsville, Queensland, Australia
Oaks Townsville Metropole Hotel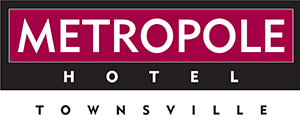 BEST RESTAURANT IN TOWNSVILLE
The Metropole Hotel boasts great views towards the Harbour and back to Castle Hill, is only a 5 min stroll from the nightclub strip and 15 minutes from the airport.
The Metropole Hotel is the perfect environment for conferences, banquets, intimate or large weddings and cocktail parties, to name a few, with old world charm with and the look of a genuine Queensland pub.
At "The Met" we strive to exceed our guests' expectations by providing great food and fantastic customer service in an environment that is totally unique to Townsville.
The Metropole Hotel is located in front of Oaks Townsville Metropole Hotel.
Notice: The Metropole Hotel Restaurant is temporarily closed. We apologise for any inconvenience.
OPENING HOURS
Open for dinner every day
Monday to Sunday: 5pm to 9:30pm

RESERVATIONS:
Oaks Hotels & Resorts