Close
MYOAKS Members get our best rates and exclusive members only benefits! Join by booking a MYOAKS rate today.
FREE & easy to join
10% off your booking
FREE internet
Kids eat FREE at selected hotels
Early check-in & late check-out
Brisbane, Queensland, Australia
iStay River City
"Fantastic hotel"
5 stars! Excellent location, beautifully appointed, outstanding service. Couldn't ask for more while in Brisbane. My room also had a great view of the river side. Short walk to anything in the Central Business District.
— JayZ L, TripAdvisorRead Reviews
OVERVIEW
Stylish and Affordable Hotel in Brisbane CBD
iStay River City is one of Brisbane's most affordable city centre hotels offering high quality accommodation with convenient amenities.

To be able to bring you exceptionally low rates, iStay hotels offer a different and more flexible level of service. If you have chosen to stay at an iStay property, you will receive the best available unserviced rate.

You will have the choice of cleaning service options, at an additional cost upon check in at your hotel.

If your length of stay is for more than 7 nights you will receive a complimentary full cleaning service in the middle of your stay.
If you are staying more than 12 days you will receive this service every 7 days.
Address:
79 Albert St, Brisbane QLD 4000
Reservations: 1300 766 558
Reception: 07 3017 0800
Email: rivercity@theoaksgroup.com.au
Undercover Parking: $30 per night / $119 per week - Entrance on Mary Street (not at Four Points Hotel). Key access required - guests must first check-in to hotel to gain access swipe. Visitor parking available for check-in guests, entry on Mary Street. If parking at Four Points Hotel, you will need to pay for valet parking at all times. Half day parking rates available @ $10. Rates apply before 12pm on day of arrival, or after 12pm on day of departure.
Download Fact Sheet
Gallery
Explore our contemporary hotel boasting stunning views of Brisbane.
Features
For guests wanting to enjoy all iStay River City has to offer, our leisure facilities will transform an ordinary stay into a relaxed holiday or business experience.
Room Types
Choose from a selection of stylish 1 and 2 bedroom apartments with opulent full-length windows and stunning city, park and river views.
View All Rooms
The 1 Bedroom Apartment is fully self-contained with a full kitchen and spacious living area. To bring you this flexible iStay Rate your room will be serviced weekly, with additional cleaning services available for purchase at any time during your stay.

More Information

78 m² Wi-Fi Kitchen Laundry Balcony

Offering glittering CBD vistas, 2 Bedroom Apartments feature full kitchen and laundry facilities. To bring you this flexible iStay Rate your room will be serviced weekly, with additional cleaning services available for purchase at any time during your stay.

More Information

125 m² Wi-Fi Kitchen Laundry Balcony

Boasting magnificent views of the Brisbane River, 2 Bedroom River View apartments include a full kitchen and laundry facilities. To bring you this flexible iStay Rate your room will be serviced weekly, with additional cleaning services available for purchase at any time during your stay.

More Information

125 m² Wi-Fi Kitchen Laundry Balcony
Special Offers
With Oaks Hotels & Resorts special offers, there's never been a better time to book that getaway
View More
What's Around?
Renowned as Queensland's cultural hub, Brisbane serves up a unique offering of entertainment, arts and activities all year round.
iStay River City
Located in Brisbane CBD, iStay River City just 25 minutes from Brisbane Airport. Central Train Station is just a 12 minute walk from the hotel. Paid parking available on-site. Although iStay River City is located on Albert Street, entry to the car park is on Mary Street, directly across from Esk Lane. All hotel guests are required to park in car parks that are marked in yellow with 'Hotel Guest Car Parking' displayed on the wall. Failure to park in these zones and/or clearly display your validated parking slip on the dash may result in your car being towed at the owner's expense.
What's Around?
Our property provides visitors to the city with a front row seat to all the sights and sounds of this buzzing playground. Find the city's best restaurants, cafes, theatres, bars and boutiques on our doorstep as well as the Botanic Gardens and Queen Street Mall – or walk a little further and discover some of Brisbane's most popular hot spots including the Treasury Casino, Southbank Parklands and Queensland Performing Arts Centre where you can catch a show followed by dinner and drinks.
What Would You Like To Do?
Ideally situated in the heart of the Brisbane CBD, a short walk from the popular Queen Street Mall and the iconic Story Bridge, iStay River City puts the best of Brisbane at your doorstep.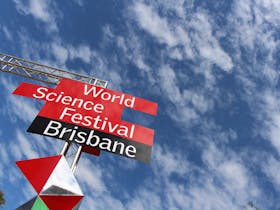 Date: 21 March 2018 - 25 March 2018
Venue: Corner of Grey and Melbourne Streets
Things To Do In South Bank
Qld Museum
World Science Festival Brisbane 2018
In March 2018, the World Science Festival Brisbane will once again bring together the world's best thought leaders to produce a stunning program of live and digital content that connects Asia-Pacific audiences of all ages with the concepts, challenges, discoveries and advancements that are shaping our world. The luminaries of the science world will present the beauty, complexity, and importance of science through diverse, multidisciplinary programming that is the World Science Festival signature. The World Science Festival Brisbane is presented by Queensland Museum and the Queensland Government, in partnership with Tourism and Events Queensland and Brisbane Marketing.
Brisbane City
RETURNED & SERVICES LEAGUE OF AUSTRALIA (QLD BRANCH) SOUTH EASTERN DISTRICT LIMITED
Brisbane Anzac Day Parade
Date: 25 April 2018
Venue: 100B Adelaide Street
The Brisbane Anzac Day Parade has it's 102nd anniversary on 25 April 2018 having been the commemorated from the first Anzac Day in 2016. No tickets are required to spectate this family event. The event is held annually for the citizen of Queensland to recognise the sacrifice of those members of the Australian Defence Force who have not returned from wars and conflicts encompassing the Boer War through to modern operations and conflicts such as Iraq and Afghanistan. The veterans, both retired and still serving, march to receive the thanks of the citizens of Queensland and visitors to the region as well as honour the memory of comrades who have not returned and have passed since. The 2018 Brisbane Anzac Day Parade marks the centenary of the Armistice signed in November 1918 and the concept will recognise the contribution of service animals and a booklet; Mounts to Motors - Transport in War, will be distributed free to spectators. The best position to view the Parade is on Adelaide Street, between George Street and Creek Street. The Parade runs between 10am and 1pm. Vehicle movement will be restricted within the Central Business District from 3am to 3pm.
Oaks Hotels & Resorts